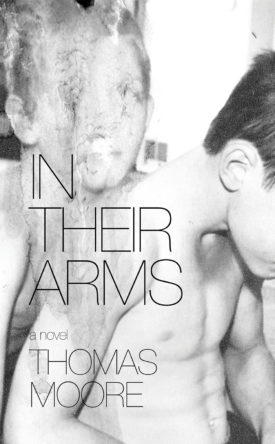 Thomas Moore's second novel, In Their Arms, releases this Tuesday, October 11.
Taking place across a mutating set of darkrooms, art galleries, blank apartments and bedrooms; In Their Arms is an acute inspection of loneliness, desire and confusion.
The narrator attempts to simultaneously find himself and become lost completely in a world of sex, internet hook-ups, drugs and pleasure.
Within the arms of nameless and unknown lovers, a strange, often conflicted spirituality is hinted at. In Thomas Moore's second novel, he uses a deft and purposely layered prose to create a grey area of illusions and smokescreens, where needs and fears entwine, often becoming the same thing.
In Their Arms is a disturbingly seductive assault from one of the most exciting new voices in experimental fiction.
Read the reviews…
"With a night vibe and a deep look inside the inner workings of emotional states and introspection, Thomas Moore's "In Their Arms" is darkly beautiful work." —Beach Sloth
"Moore's prose is simple but evokes powerful imagery of loneliness and sex." —Ben Arzate, Cultured Vultures
"In Their Arms maps a nightmare geography, a terrible and glittering sprawl of fantasy and abuse. And yet some warmth does still persist in the back streets of Moore's creation: a faint animus of meaning that haunts the urban and digital spaces of this slim novel. Moore flirts with the abject, yet never allows his novel to degrade into pure nihilism. Instead, In Their Arms is a rare thing: a novel at once unafraid to confront the darkest recesses of the human condition, and yet unwilling to allow the light to be snuffed out completely.
"Like the artist's painting, Moore's novel embodies a 'queer space' of emotional logic. It's to the rhythm of feeling, rather than narrative, that In Their Arms pulses: loneliness, regret, desire, and disgust all punch the surface of Moore's blank prose." —Joe Rollins, Minor Literature[s]
Check out two Excerpts:
berfrois: literature ideas tea